Commercial Unit Soundproofing In One Day For Under $10K!
If you have a commercial unit in a plaza or office and you are disturbed by the noise of the business next door, the last thing you want is to spend a fortune on soundproofing and close for weeks. Fortunately, there is now a cost-effective way of soundproofing a commercial unit in just one day and for less than $10,000.
If a quick and affordable answer is what you're looking for, we have the solution!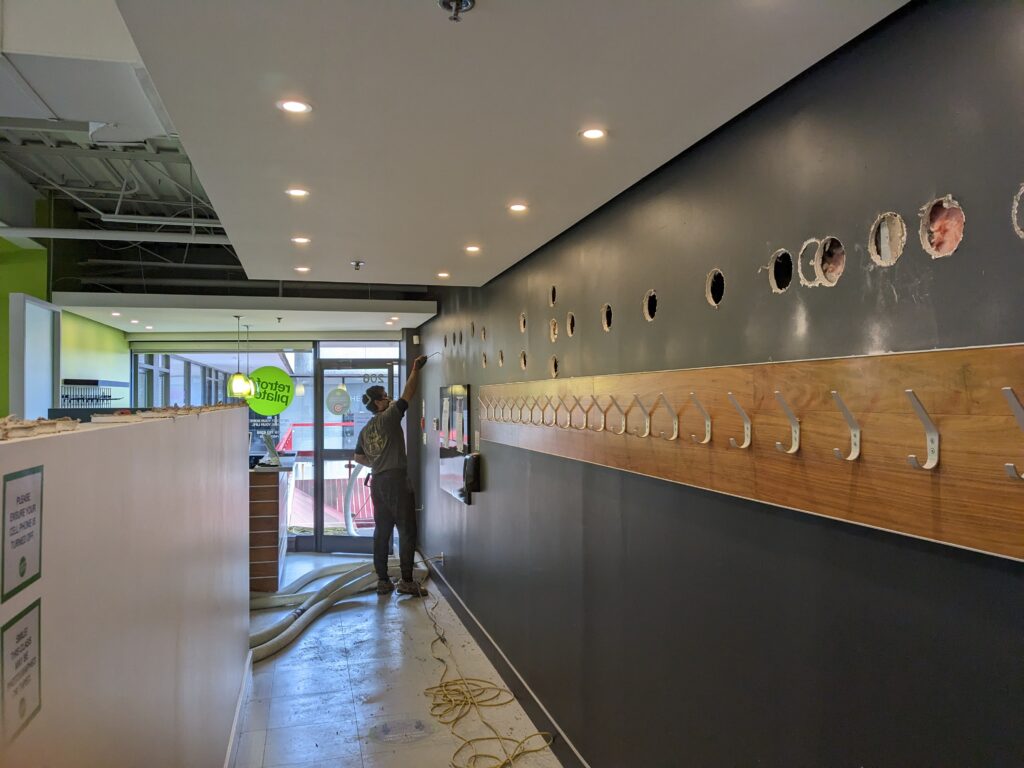 It is called "Cellulose Dense-Pack Drill and Fill" and is the quickest and most affordable way to soundproof your walls and ceilings. Cellulose dense-pack drill and fill is an innovative, cost-effective soundproofing solution for commercial units that provides maximum sound control.
We simply drill holes in every cavity and fill them with our specialized equipment. Our cellulose dense-pack drill and fill soundproofing solution is designed to absorb sound waves and dampen the echo, so you don't have to worry about excess noise affecting your daily activities. It usually takes a day to finish, and you can expect up to 60% less noise. With this solution, soundproofing is no longer a difficult or expensive process.
The reason why it works so well is because of its mass and density. By creating a barrier of mass between two spaces, our cellulose dense-packed drill and fill soundproofing solution can absorb sound waves and vibrations, which helps to reduce the amount of noise that passes through it.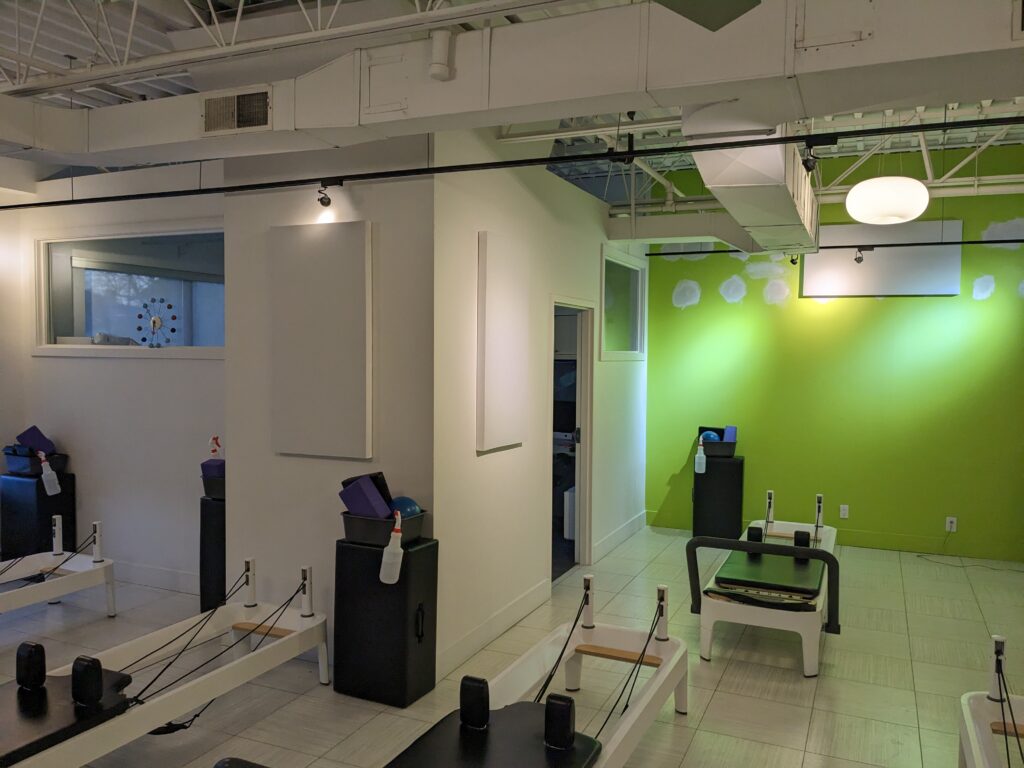 Meanwhile, adding dense and heavy material to a structure will result in a decrease in vibration. And because dense-packed cellulose at 4 lb density is 1.5 times denser and 3 times heavier than mineral wool sound batts, it performs better. This means that our densely packed cellulose soundproofing solution reduces noise transfer even more than traditional solutions, making the space quieter.
In comparison, mineral wool from your local hardware store has a density of 2.5 pounds and weighs 60 pounds per 100 square feet, while dense-packed cellulose insulation has a density of 4 pounds and weighs more than 180 pounds. Furthermore, cellulose insulation is also the more economical choice, as mineral wool sound insulation is more expensive. With this in mind, it is easy to see why our dense-packed cellulose soundproofing solution is so popular! Check out our Commercial page dedicated to servicing commercial units.
Need more serious soundproofing?
We've got some heavy-duty sound barrier options here!

We can go further with science if you need serious airborne sound and impact noise reduction. About 40 decibels is an acceptable ambient noise level, and if you want to learn more about acoustics, look at our Soundproofing page. There are five ways to reduce sound when adding commercial unit soundproofing. 
#1 Decoupling Clips & Furrings
Decoupling can take many forms; some are separated between two objects to reduce the amount of sound vibration that can transfer. Its goal is to isolate vibration from one surface from vibration from another.
#2 Sound Absorption Panels 
Then sound-absorbing panels can be hung to reduce the sound even more. You can choose from different kinds of decorative boards and use your own graphics to make unique designs for you and your business. There are a variety of shapes, colours, and patterns to choose from!
#3 Duct Acoustic Liners
Often, the ducts are shared between all units and will have to be addressed with sound-absorbing liners to mitigate the sound travelling from one unit to the other. We insert the liners into the register ducts.
#4 Acoustical Drywall
In contrast to the traditional drywall installation of 5/8-inch drywall sheets, this drywall has been designed specifically for acoustics. Acoustical drywall like Quietrock or Silent FX can drastically reduce noise as they have an STC of 46-80!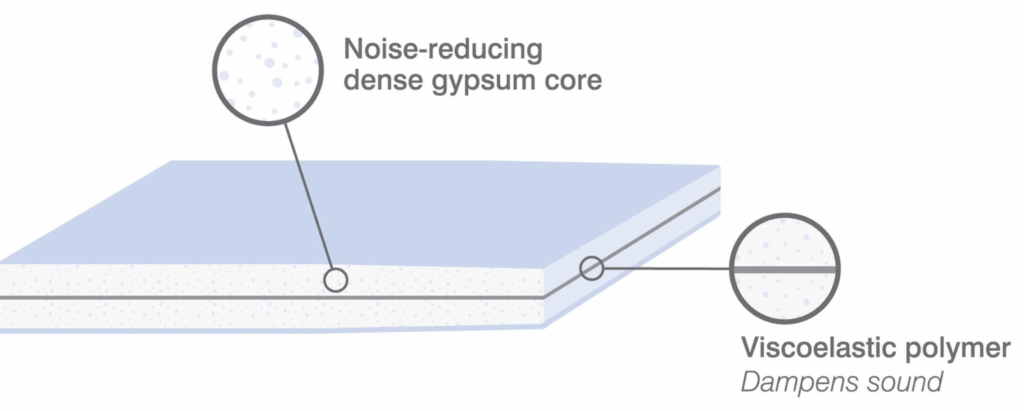 #5 Acoustic Ceiling Tiles
Installing acoustic ceiling tiles in buildings can significantly reduce noise. They absorb sound, reduce echoes, and prevent sounds from travelling to nearby areas.
Acoustical Consultant
Moreover, we can also give you an acoustics report for commercial unit soundproofing if your project has special sound barrier needs. The sound engineer will do acoustic tests to determine how loud your space is and where the soundproofing could be better. This consultant will recommend the best materials for your space based on what will work to reduce the noise problems.
In conclusion, to sum up, a 2000-square-foot unit is usually less than $10,000, excluding the painting that will be necessary afterwards. Click Here to start your commercial unit soundproofing project!